We support the development and research for our customer's wide ranging fields from ships, oceans, aircraft, sports and leisure. We will work on technical development of EFD (Experimental Fluid Dynamics) and CFD (Computational Fluid Dynamics) will continue to challenge the construction of the next generation measurement and analysis system.
Development of underwater vehicles
We respond to requests of planning, design and manufacturing of ROV(Remotely Operated Vehicle) from the clients. It is possible to establish the stability and the maneuverability according to the mission of the vehicle. After the delivery, we support the operation of the vehicle and the maintenance.
Please consult us about environmental monitoring in ocean and lake field.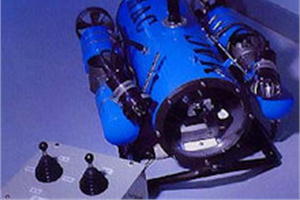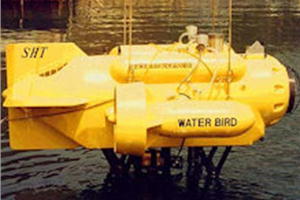 R.O.V without tethered cable
Research on sports and leisure
The swimming training is tried by using hydrodynamics tehchnology. We research the optimization of swimming by using the thechnology of the measurement and observation in CWC..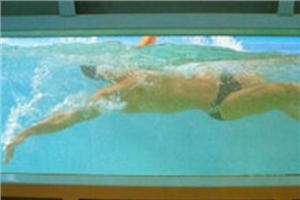 Study on swimming training method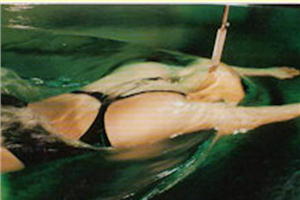 Resistance test of swimsuit, cap, and goggles by elastic model
We are researching the hydrodynamics in leisure fields, such as the development of a high-speed boat, PWC(Personal Water Craft), surting and windsurfing.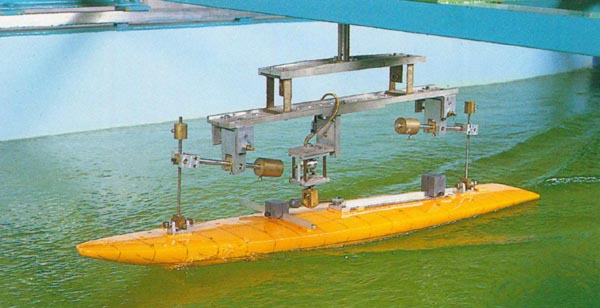 Resistance test for windsurfing.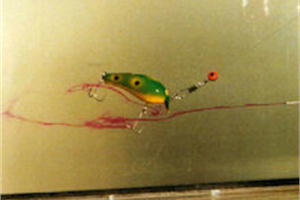 Flow visualization around a fishing lure
Acoustic bubble spectrometer
ABS (Acoustic bubble spectrometer) is a device that acoustically measures the bubble size distribution and void fraction in liquid using two hydrophones. Compared to optical methods, ABS is affordable and easy to use. While optical methods make it difficult to separate air bubbles and other solid particles directly, the acoustic technology underlying ABS is very sensitive to air bubbles and at the same time insensitive to solid particles, It is possible to distinguish between the two.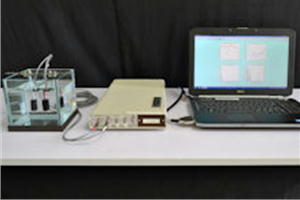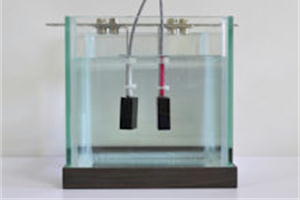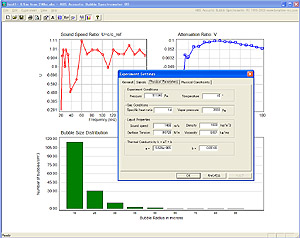 All measurements and analysis can be easily performed through an easy-to-use GUI. Users can change all physical, experimental and analytical parameters on the dialog box.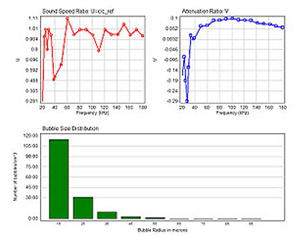 Number of bubbles per frequency
ABS can be used in a wide range of gas-liquid two-phase flow experiments where knowledge of bubble size distribution, volume ratio between gas and liquid, contact area etc. is important. This area includes oceanography, laboratory flow experiments and biomedical instruments.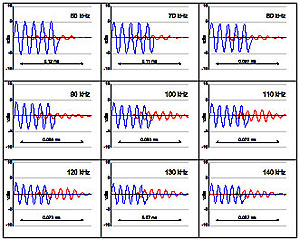 Transmit waveform and receive wave
This device can output measurement results almost in real time, so it is suitable for application to phenomena that need to capture process or time fluctuation.
Simulation of flow by CFD (Computational Fluid Dynamics)
CFD is a powerful tool for understanding spatial phenomena and reducing experimental costs. We are using our abundant experimental skills to improve the accuracy of simulation and expand the scope of application.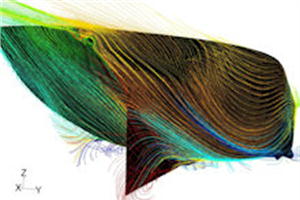 Flow around the ship bottom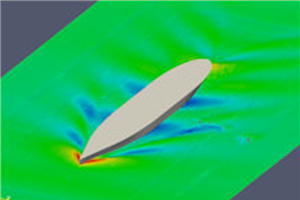 Flow around hull with a free surface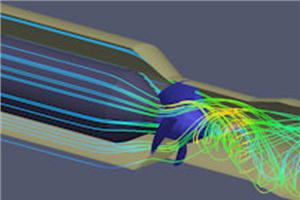 Flow around the turbine for hydroelectric power generation
Flow area around the ship type
Flow around upper structure
PBCF(Propeller Boss Cap Fins)
By the effect of the same number of fine as the propeller attached to the boss cap at the rear of the propeller, the vortex generated downstream of the boss cap is diffused/reduced. As a result, it reduces induced resistance due to vortex and improves propeller efficiency. (Joint development with Mitsui O.S.K. Lines, Ltd. and NAKASHIMA PROPELLER CO.,LTD.)
・Continue to be effective with polishing maintenance level
・3 to 5% energy saving effect. (CO2 emission reduction)
・Over 3,250 vessels have adopted !! (in 2018)
・Won Nikkei Global Environment Technology Award
Contribution to marine environmental conservation
Equipment certification by ECO ACTION PROGRAM of Canada Vancouver Port (January 1, 2017 ~ )
※ It is selected as a technique to reduce the influence of underwater acoustic noise on marine creature. (26% reduction in port dues)
Slope/step switching type ladder
We developed new type of ladder for passenger ship. The walkway can be switched to slope and step according to the angle of the ladder.
1.Switching slope and step
In case of small angle of the ladder, slope which has smooth surface is useful. It is convenient for wheelchair access.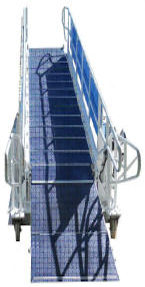 In case that ladder angle is over 15deg, walkway with steps is better for safety of passengers. All of steps are kept horizontal regardless of the ladder angle.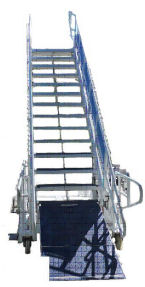 2.Motorized raising and lowering of walkways
・Motorized raising and lowering of the walkway can be done by button operation.
・Equipped with a battery for electric lifting on the tarp. Charges the battery with the supplied solar power system while waiting for tarlap, no electricity bill.
・Motorized movement of the tarp is possible on request.
3.Weight reduction with corrosion resistant aluminum alloy
It can be operated by few workers.
Slope / step switching type
Walkway angle setting method
Electric lift system (can be a manual handle mounted on the body)
Battery with tarp (the battery is charged by the attached solar power system)
Human power by two operators (electric movement system can be installed if desired)
Corrosion resistant aluminum alloy、SUS304
※The dimensions, such as the overall length of the tarp, will be determined after investigation of the tide level, etc. of the used ferry and wharf.
※In addition, it is possible to be configured according to your environment and situation.