Acoustic Bubble Spectrometer(ABS)
ABS (Acoustic bubble spectrometer) is a device that acoustically measures the bubble size distribution and void fraction in liquid using two hydrophones. Compared to optical methods, ABS is affordable and easy to use. While optical methods make it difficult to separate air bubbles and other solid particles directly, the acoustic technology underlying ABS is very sensitive to air bubbles and at the same time insensitive to solid particles, It is possible to distinguish between the two.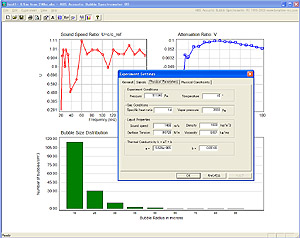 All measurements and analysis can be easily performed through an easy-to-use GUI. Users can change all physical, experimental and analytical parameters on the dialog box.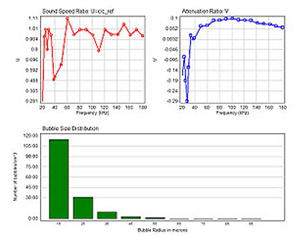 Number of bubbles per frequency
ABS can be used in a wide range of gas-liquid two-phase flow experiments where knowledge of bubble size distribution, volume ratio between gas and liquid, contact area etc. is important. This area includes oceanography, laboratory flow experiments and biomedical instruments.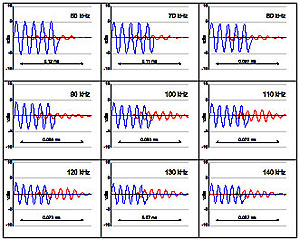 Transmit waveform and receive wave
This device can output measurement results almost in real time, so it is suitable for application to phenomena that need to capture process or time fluctuation.
Acoustic Bubble Distribution System (Acoustic Bubble Spectrometer, ABS) is a product of Dynaflow. We are selling ABS system as a Japanese agent of Dynaflow.